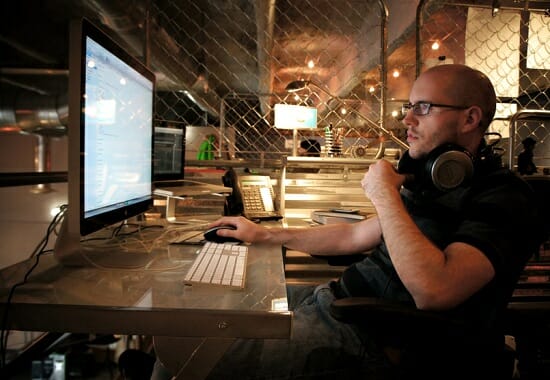 Have you ever wondered why your lead generation website isn't getting the results you're expecting? Are you wondering why the heck people aren't flocking to your forms like salmon flocking to the Capistrano? We're busting out our Billy Mays salesmanship to show you, yes YOU, how to get the most out of your website by using just 10 simple tricks to generate more leads from your website.

1. Simplify your forms. Do you know anyone who likes filling out 30 lines of personal info? Everyone hates it. Making every field a required item on the form drives away inquiries. Nobody likes filling out online forms, and every required field you add drives away another inquiry. Keeping forms as simple as possible will yield higher numbers.
2. Strengthen your offers. To continue the thought above — are you giving visitors something worthwhile? If 5% off isn't generating leads, maybe 10% will create a stampede. "Free consultation" may be too vague; add precision and value by saying, "Free, no-obligation, one-hour performance assessment." Make it clear that people will get something valuable from filling out your forms.
3. Properly position your offers. Many sites have offers that hold tremendous value, but they don't see results because they're not displayed where people can see them.  Place offers high on the page, and add them to your templates so they appear on every page. Bonus tip: test your site in all the popular screen resolutions. You may be unpleasantly surprised to see where your offers display in lower resolution.
4. Add imagery to your offers. Eye candy is key to getting the attention your forms need. Plain text or even highly stylized text offers get lost in the shuffle even if they are properly positioned. Images always attract attention, so be sure to use them as part of your offer's design. If offer-related imagery competes for attention with other images on a page, you may be better off eliminating or toning down the distractions.
5. Create a landing page. If you're doing PPC campaigns, whether around a specific offer or more generally targeted, a landing page that employs conversion optimization best practices will convert much better than driving clicks to your home page. A social media landing page also works well: they are not hard to build and very much worth it if you get a lot of social media referred traffic.
6. Optimize your phone number. Lots of people are more inclined to call than inquire electronically — particularly when they are close to making a decision. Is your phone number clearly visible on every page of your site? Do you have a toll-free number? If you market internationally, are you making it easier for out-of-country visitors to call? Is your phone number clearly identified as the place to call for sales inquiries? The answers should be yes, yes, yes, and yes.
7. De-clutter your site. For conversion, less is usually more from a design standpoint. Along with eliminating distracting images, reduce the number and styling variations of fonts, simplify your blog's sidebar, and reduce the number of navigation options. White space is good, especially above the fold. The top-notch website design solutions will help to streamline processes, and deliver needed information to customers quickly.
8. Set up lead tracking. If you don't know where your leads came from, it's difficult to know where to focus your marketing attention. A good lead tracking setup gives you insight on where visitors to your landing pages came from. You can also track how visitors move around your site, which can be very illuminating as well.
9. Study your stats. Does your contact page have a high bounce rate? If so, see if you can determine why; perhaps a slight change to the inquiry form could make all the difference. Are your product pages common exit pages? If so, perhaps these pages need a more compelling offer — or just an offer! Google Analytics provides a wealth of information.
10. Test. You should always be trying new offers, different images and different messaging. Human behavior is notoriously difficult to predict, and often the most successful approach is one you never thought would work. Just remember not to change too many things at once, because you'll then have trouble trying to determine which change caused results to improve.