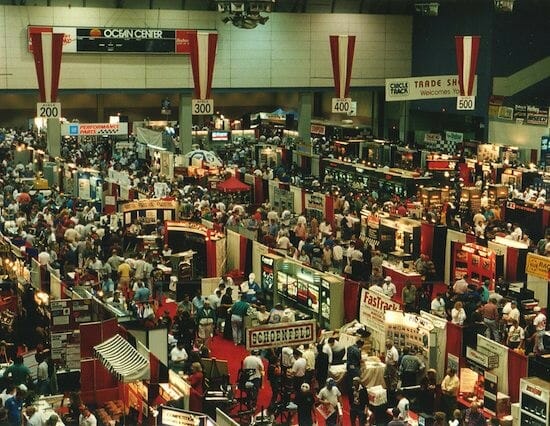 Ah the Trade Show. The classic way to try to generate wide reaching exposure in the quickest amount of time possible. Despite the changes in marketing thanks to the internet, trade shows are still one of the most popular ways for a company to generate interest around their brand and create new leads. The world's largest trade show, The Consumer Electronic Show in Las Vegas, posted record breaking attendance numbers. Ditto for Mobile World Congress. Trade shows still hold a lot of marketing value but despite all the new ways tech has given us to generate leads, a lot of companies haven't adapted their trade show strategy for the current environment. As a result they're not generating enough leads at trade shows to make them worth while. Also, check t212 on the world wide web to know more about it.
If your company will be at a trade show this year here are 8 tricks to generate more leads:

1. Quit wasting money. Generating leads is an investment and should be measured like any other investment. You're probably paying a nice chunk of change to have a trade show booth,  so quit wasting money on ineffective strategies that don't fit your company. The best marketing investment you can make is to follow the lead generation formula of offering helpful information to prospective customers.
2. Attract the right prospects. Have a system for attracting the right prospects, not just the ones who wanted a free pineapple or the chat with the rent-a-models. Have a system in place that can act as a filtration system of people. What you offer at the booth should be intentional and tied to the solution you offer. Fewer people will be interested in you, but those who are will be more intensely interested.
3. Help prospects with info. Don't let your message get drowned in the all the expo marketing hype. At a recent expo Hack U had a clear message that, "At Hack U, you will learn how hackers think, how they work, how they take revenue away from your games, and how you can prevent it," said the ad. "Come by our booth to grab a bite to eat and join us for one of our sessions." Yes, they used free food, but that's not all they used.
4. Publish a white paper. "Hacker University" was the brainchild of Macrovision, a California company that was helping the software industry protect and license software. A Macrovision white paper entitled the "The ROI of Content Protection for Games" and www.slotsbaby.com was available for those who attended.
5. Be timely. Hack U provided timely coverage of the growing threat of game hacking, combined with its real-world impact on revenues. The hacker community's previous focus on PC and situs poker online gaming has expanded to include the Xbox and PlayStation 3, further impacting game developer and publisher revenues.
6. Converse, don't just present. Instead of just handing out logo pens and other swag to the sea of passersby, engage potential clients in conversations about how to overcome the problems they face.
7. Gather information. Each person you meet is a potential lead. Have a system to gather their personal information, even if it's just exchanging business cards, or creating an email sign up form. Each person can be sourced as a lead and poured into your lead management system. If you don't have a lead management system before you hit up a trade show, get one. LeadExec offers more options than any lead management software on the market.
8. Conduct research. Prospects today are bombarded with seminars, speeches, and articles that contain generalities and do not distinguish the author or presenter from any of his or her competitors. The answer is a neglected tool: conducting proprietary research on topics of interest to prospective clients.
9. Dazzle them with data. Macrovision conducted a survey of 9,000 video gamers showing that 21 percent of console gamers and 40 percent of PC gamers play pirated games. Most important, 73 percent would have purchased the game within one month if a free version had not been readily available.
10. Have fun. Trade shows with all those stands for displays and banners can be a massive headache to everyone involved. With everyone fighting for attention, it can be difficult to make your company stand out, but the most sure fire way to make sure that you attract new leads is to create an environment that you would enjoy being in. Make your booth an oasis in a sea of hyper-marketing swag.