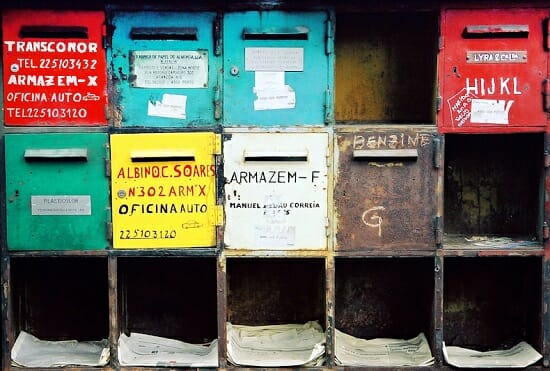 Emails are still the best lead generation tools you can have for your business. We see a lot of companies using email to generate most of their sales leads, but unfortunately, they're doing it wrong. Getting leads via email shouldn't be some complex mystery that only few can solve. Keeping everything simple is a sure way to get the leads instinctively flocking to your product like the salmon of the Capistrano. Here are four tips on how to to make the most of your email sign-ups.

1) Have redundant e-mail sign up fields. Different viewers will want to utilize your website in different ways. Some won't go below the fold, others will go deep into the text. Make sure you allow for multiple different call out areas and multiple form fields throughout your website to maximize the chance of an email sign-up. This gives potential leads the opportunity to get only the information from you that they want, and it provides your company with different levels of filtration to qualify your leads.
2) Only ask users to fill out a maximum of two fields. Websites often fail to convert prospects into email subscribers when they ask people to fill out too many fields. The more work you ask a potential customer to do, the less likely they will be inclined to fill out your form. Let's be honest, who surfs the internet just hoping for the chance to fill out forms that have 15 required fields? No one!  Make it as easy as possible on your potential customers by just getting the essential info now. By decreasing the amount of information required on forms, leads will then be more likely to sign-up.
3) Add a floating subscription form for first time users. By adding a call to action window that includes a variety of different things the user is to receive if they sign up, you'll increase the likelihood of them actually becoming a subscriber. Include things like the value-adds your website offers, free tools and resources, and maybe even a giveaway to seal the deal. By incentivizing the reason for filling out your form, potential leads will understand the value your company can provide them with. This is one more opportunity for you to sell yourself.
"The way that we've always maximized email sign-ups is by putting a big bold box in the middle of every single page on our site, with a very clear call to action and a large button. I think that people often think that putting something off to the side, or a little link in an email is going to do it, but if you want email signups you have to very clearly ask your audience for it." – Ben Lerer, CEO, Thrillist.com
4) Use social network API's to make it easier for customers to sign-up. Adding sign-up buttons from all the different social media networking sites will allow the audience to come to your website and at the click of the a button join your email list. Use the infrastructure from the social media titans to make it even easier for your customer's to sign-up. Adding as much simplicity as possible to the sign-up process will make the endeavor pain free, and will yield a higher return on email sign-ups.
[via Inc]